Plants Are Friends! Teil 2: Anika Paulus
27.09.2018
Für den zweiten Teil unserer Serie "Plants Are Friends" hat es uns nach Friedrichshain, in die Altbauwohnung von Anika Paulus verschlagen...

For the second part of our series "Plants Are Friends" we travelled to the old apartment of Anika Paulus in Friedrichshain...

Anika Paulus arbeitet als freie Beraterin für PR und Kommunikation. In ihrem Portfolio finden sich verschiedene große Mode-, Design- und Lifestyle Marken, und auch wir von "The Botanical Room" konnten ihr Herz und ihr Engagement für uns gewinnen. Anika, die Frau mit den stahlblauen Augen und einer "sehr großen Schwäche für schöne Dinge" hat uns in ihre Wohnung gelassen und ein paar botanische Fragen beantwortet.
Anika Paulus works as a freelance consultant for PR and communication. Her portfolio includes several major fashion, design and lifestyle brands, and we at "The Botanical Room" were also able to win her heart and commitment for us. Anika, the woman with the steel blue eyes and a "very big weakness for beautiful things" invited us into her apartment and answered a few botanical questions.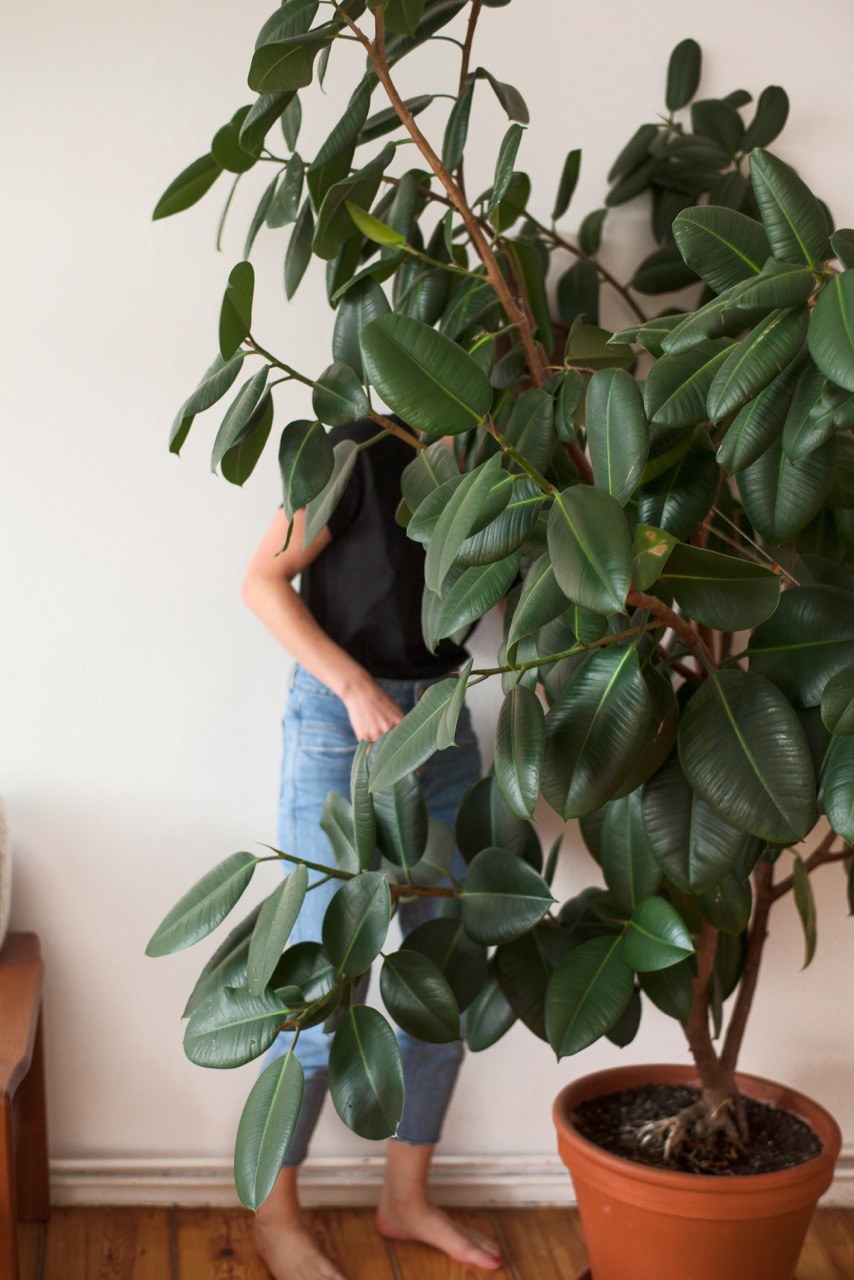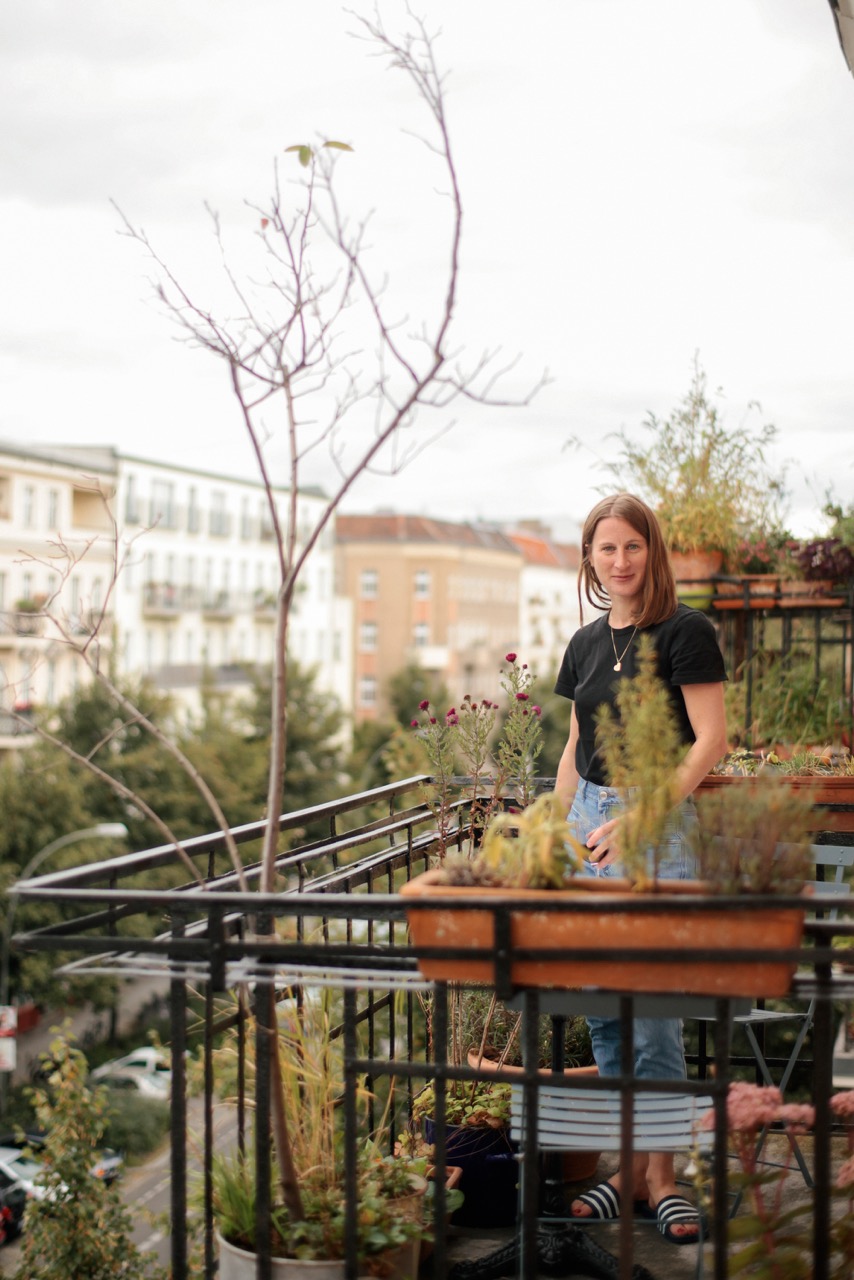 Ihr zu Hause ist eine minimalistische Oase im Großstadtdschungel, eine kohärente Mischung aus skandinavischem Design, Vintage-Funden und wenigen, ausgewählte Pflanzen, die, wie Anika findet, für eine lebendige Atmosphäre sorgen. Ihre Wohnung ist für sie der perfekte Ruhepol.
Auf den ersten Blick scheinen Kater Fritz und das hell bezogene Teakholzsofa farblich aufeinander abgestimmt zu sein – so harmonisch ist das schöne, helle Wohnzimmer – doch in Wahrheit steckt hinter den Gegenständen mehr als guter Geschmack, aktuelle Wohntrends und Ästhetikhascherei: denn das Interieur ist im Laufe der Zeit gewachsen, jedes Objekt, jede Pflanze wird zum Lieblingsstück und hat oft auch eine Geschichte.
So wandert der Blick bei Anika immer wieder auf einen besonderen Übertopf, die schöne, exklusive Minibar, oder Ihre vielen Lieblingsbücher.
Her home is a minimalist oasis in the big city jungle, a coherent mixture of Scandinavian design, vintage finds and a few selected plants, which, as Anika finds, create a lively atmosphere. For her, her apartment is the perfect place to relax.

At first glance, tomcat Fritz and the brightly upholstered teak sofa seem to be color-coordinated - that's how harmonious the beautiful, bright living room is - but in truth there is more behind the objects than good taste, current living trends and aesthetic obsession: because the interior has grown over time, every object, every plant becomes a personal favorite and often has a story to tell.

Thus, the eye is always drawn to a special cachepot, the beautiful, exclusive minibar, or her many favorite books.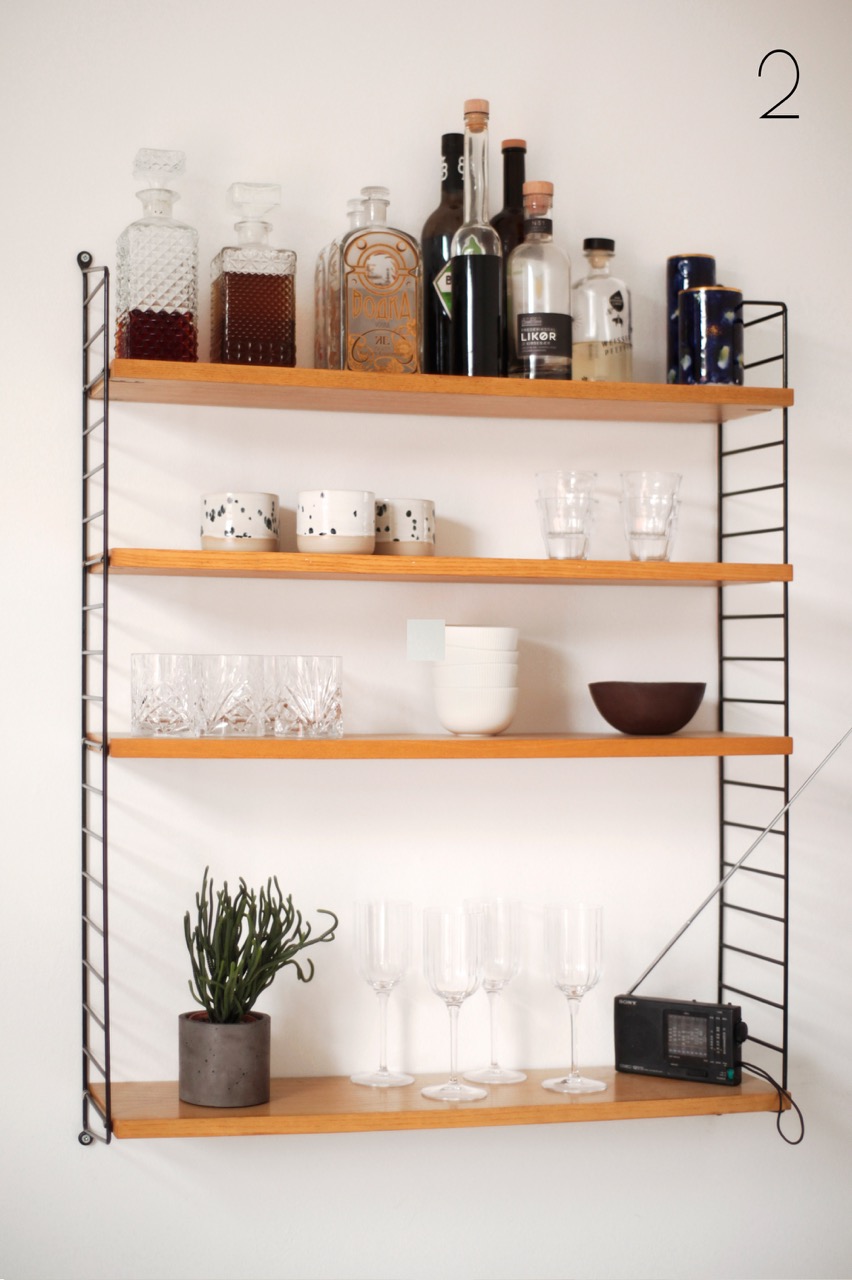 Statement Pflanze oder Mauerblümchen?
Gerne ein schlichtes Statement in der Wohnung, auf dem Balkon und im Blumenstrauß (eine Sammlung von Mauerblümchen), aber an sich bevorzuge ich Understatement und mag keine protzigen Pflanzen.
Statement plant or wallflower?
I like a simple statement in the apartment, on the balcony and in a bouquet (a collection of wallflowers), but I prefer understatement and don't like pretentious plants.
Dschungel oder Minimalist?
Minimalist
Jungle or minimalist?
Minimalist
Terrakotta oder Plastiktopf?
Terrakotta!
Terracotta or plastic pot?
Terracotta!
Pflegeleichte oder pflegeintensive Pflanzen?
Pflegeleicht - ich kümmere mich gerne, mag es aber robust und einfach, keine Drama Queens oder Kings.
Easy-care or high-maintenance plants?
Easy-care - I like to take care of them, but I like them robust and simple, no drama queens or kings.
Wegwerfen oder aufpäppeln?
Aufpäppeln, jedes Leben zählt :)
Throw it away or nurture it?
Upgrading, every life counts :)
Große oder kleine Pflanzen?
Große, nicht so kleinteilig (siehe Minimalist).
Big or small plants?
Big ones, not so fragmented (see Minimalist).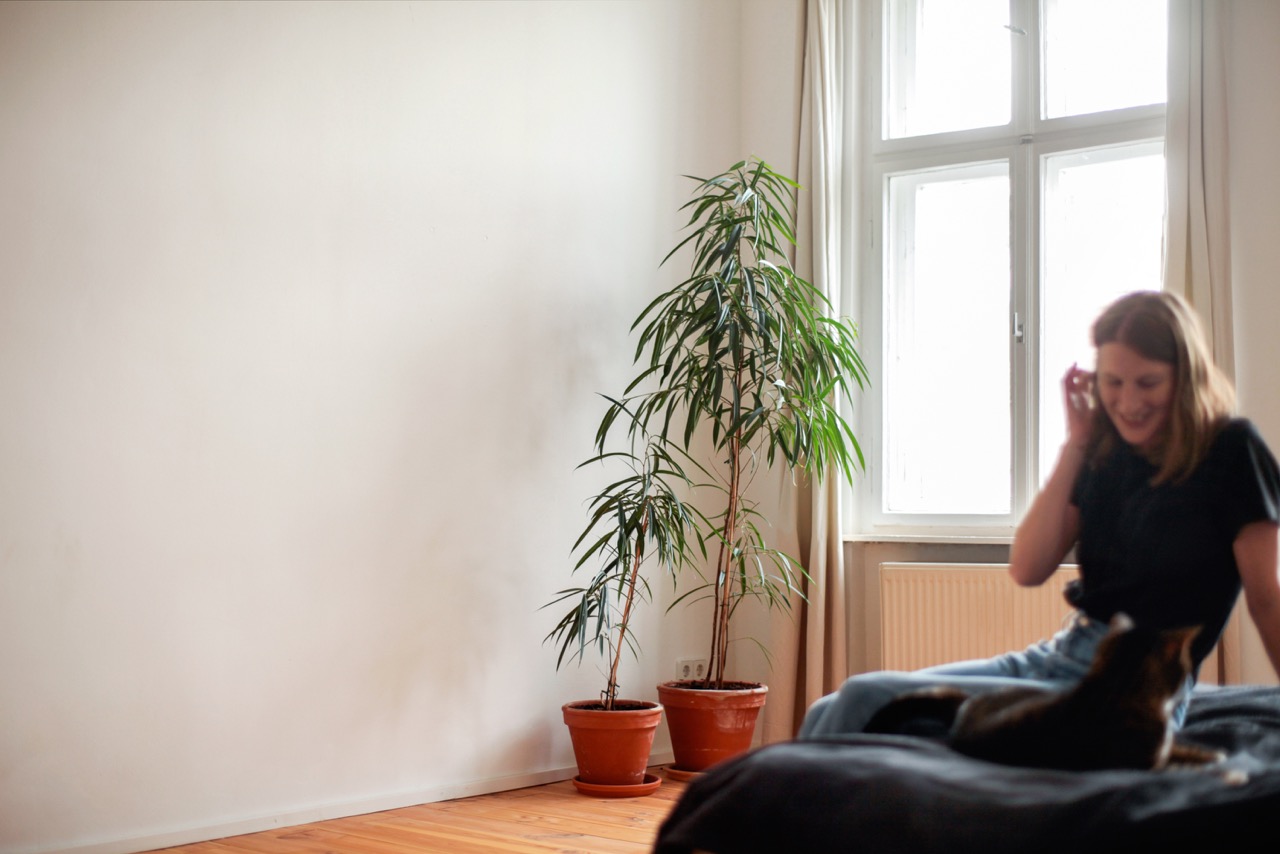 Was ist deine Lieblingspflanze, und warum?
Ich habe nicht eine Lieblingspflanze, ich mag viele – das ist abhängig von Umfeld und Situation. Meine Felsenbirne auf dem Balkon mag ich dort sehr – in freier Natur bevorzuge ich aber andere.
What is your favorite plant, and why?
I don't have one favorite plant, I like many - it depends on the setting and situation. I like my rock pear on the balcony very much there - but in the wild I prefer others.
Wie alt ist deine älteste Pflanze?
Der Gummibaum ist ca. 15 Jahre alt, aber erst dieses Jahr bei mir eingezogen. Er ist seinem brandenburgischen Bungalow entwachsen und freut sich nun bei mir über die hohen Altbau-Decken und viel Licht.
How old is your oldest plant?
The rubber tree is about 15 years old, but only moved in with me this year. It has outgrown its bungalow in Brandenburg and is now enjoying the high ceilings of the old building and lots of light.
Was war die erste Pflanze, die du besessen hast, und wann war das?
Wie viele Kinder der 90er, hatte ich in meinem Zimmer diese grünen, langblättrigen Pflanzen, an deren einzelnen Armen / Strängen dann immer neue kleine Pflanzen wuchsen. (A.d.R. : eine Grünlilie, oder auch Chlorophytum comosum genannt)
What was the first plant you owned and when was that?
Like many children in the 90s, I had these green, long-leaved plants in my room, on whose individual arms/strings new small plants grew. (A.d.R. : a green lily, or also called Chlorophytum comosum)
Gibt es eine schöne Geschichte zu einer deiner Pflanzen?
Ja, zu dem Gummibaum. Ich habe ihn online entdeckt, nachdem ich beschlossen hatte, dass meine sehr minimalistische Wohnung ein bisschen Grün vertragen könnte. Ich bin mit einer Freundin nach Brandenburg rausgefahren und wir haben ihn bei einer Familie abgeholt, die ihn 15 Jahre im Wohnzimmer stehen hatte. Sie haben sich danach noch bei mir erkundigt, ob er gut angekommen wäre, und ich habe ihnen noch ein Bild von ihm in seinem neuen Zuhause geschickt, da waren sie ganz froh.
Is there a nice story about one of your plants?
Yes, about the rubber tree. I discovered it online after I decided that my very minimalist apartment could use a little green. I drove out to Brandenburg with a friend and we picked it up from a family who had it in their living room for 15 years. Afterwards they asked me if he had arrived safely and I sent them a picture of him in his new home and they were really happy.

Gibt es eine traurige Geschichte zu einer deiner Pflanzen?
Zwei Palmen habe ich von einem Freund "geerbt", der nach vielen Jahren wieder zurück nach Schweden gezogen ist – natürlich würde ich ihn lieber hier haben, als die Pflanzen ;)
Is there a sad story about one of your plants?
I "inherited" two palms from a friend of mine who moved back to Sweden after many years - of course I would rather have him here than the plants ;)
Hast du ein Haustier, und wenn ja, wie funktioniert das mit deinen Pflanzen?
Ja, einen Kater. Das funktioniert prima, ab und zu knabbert er mal an der Palme oder den Balkonpflanzen, aber nur um mich zu ärgern. Sonst ist er relativ unbeeindruckt und lässt sie in Ruhe.
Do you have a pet, and if so, how does it work with your plants?
Yes, a tomcat. That works great, every now and then he nibbles on the palm tree or the balcony plants, but only to annoy me. Otherwise he is relatively unimpressed and leaves them alone.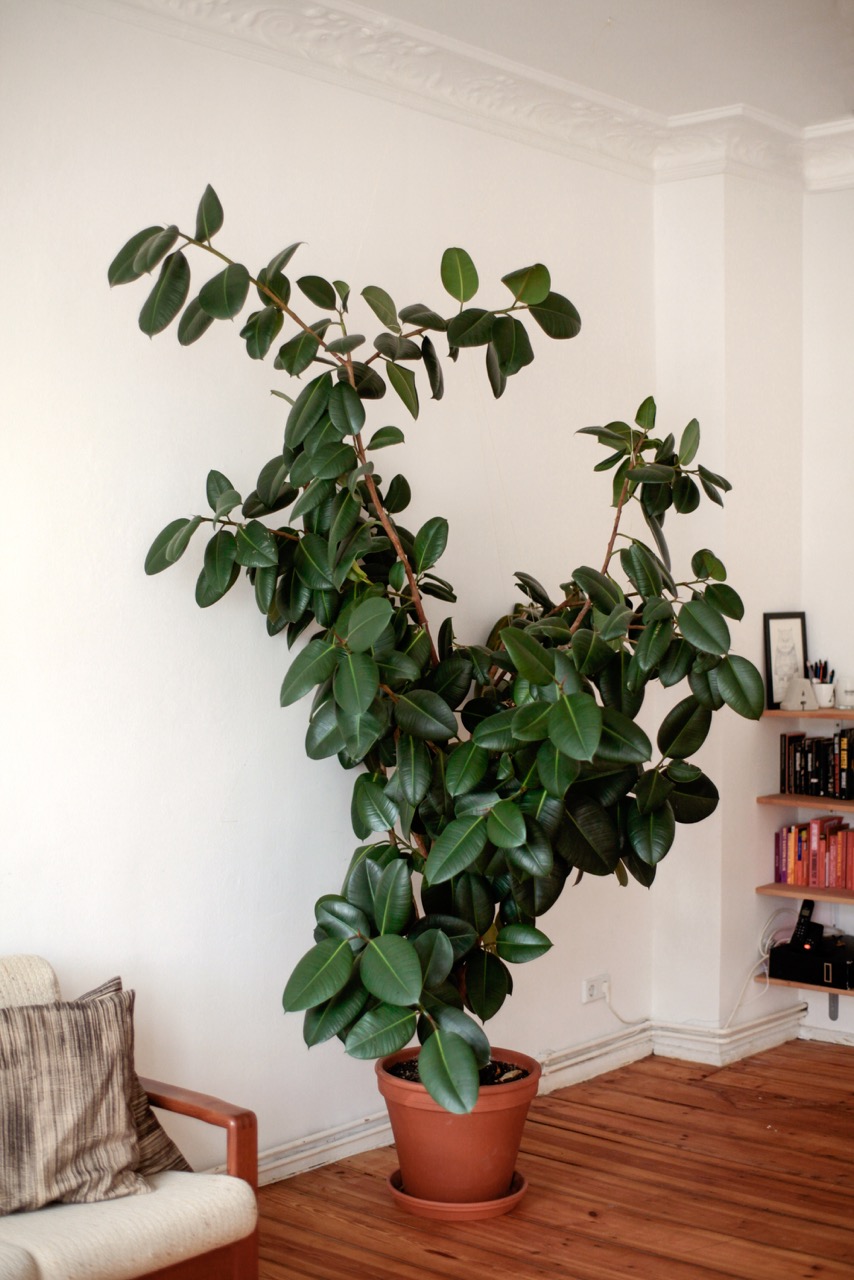 Pflanzenlegende:
Foto 1: Crassula muscosa im GRAMA-Übertopf
Foto 2: Dypsis lutescens oder auch Goldfruchtpalme
Foto 3: Ficus elastica aka Gummibaum
---
Text & Fotos von Amelie Varzi